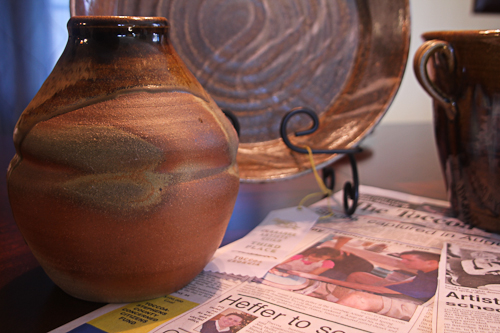 What do funnel cakes, face paint, original oil & acrylic artwork, photography, pottery, moon bounce inflatables, and fried pies all have in common?  Well, it's fall, of course!  And in towns both large and small, city dwellers come a' creepin' in from flatter locales to catch a feel for slower paces, cooler breezes,  mountain vistas, some great food, and hopefully a handmade piece of pottery or two…
Saturday, November 6 from 10 a.m. – 5 p.m. and Sunday, November 7 noon – 4 p.m., lifefire will be celebrating the fall season at The Currahee Artists' Guild 21st Annual Fall Arts & Crafts Festival in downtown Toccoa at The Studio & Frame Shop.  We'll be among 75 other artists participating in a judged show featuring over 200 pieces of artwork on display or for sale.  We'll also have a booth (somewhere in downtown) featuring our newest wares for sale.
Please stop by The Studio & head upstairs to check out our wares, and while you're there, cast your vote for "Viewer's Choice Award" … (lifefire pottery graciously accepts all votes!).